3ds Max and Maya Indie will be available worldwide on August 7th
Friday, July 24, 2020 | Written by Jim Thacker
Autodesk will launch 3ds Max Indie, its discounted subscription to 3D animation software for artists earning less than $ 100,000 a year, in a larger number of countries on August 7, 2020.
The change, announced in emails to existing subscribers that have been republished on social media, will make 3ds Max Indie subscriptions available in 26 other countries in Europe, Asia and South America.
Maya Indie, the corresponding offering for Maya users, will also be available worldwide on August 7th.
Use the full version of 3ds Max or Maya for $ 250 / year
3ds Max Indie and Maya Indie were launched last summer and offer users with a single license for the full version of the software gross annual sales from design work of less than $ 100,000 / year.
The exact price varies from country to country, but is currently $ 250 / year.
The program was originally only available in Australia, Canada, New Zealand, the United Kingdom and the United States. However, Autodesk announced in March that it plans to launch 3ds Max Indie worldwide.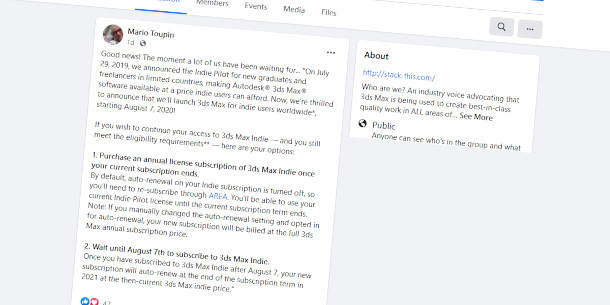 3ds Max Indie will soon be available worldwide, but not in every country
According to an email to 3ds Max Indie subscribers, which has been re-published in the Stack 3ds Max Facebook group, the company will "launch 3ds Max for indie users worldwide * from August 7, 2020".
The footnote attached to this asterisk shows that Autodesk means "worldwide" "worldwide", but not "in every country in the world". Indie subs will initially be available online in 26 other countries:
Asia
China, India, Japan, Korea, Malaysia, Singapore
Europe and the Middle East
Austria, Belgium, Czech Republic, Denmark, Finland, France, Germany, Hungary, Italy, Netherlands, Norway, Poland, Portugal, Russia, Spain, Sweden, Switzerland, Turkey
South and Central America
Brazil, Mexico
If your own country isn't on this list, don't give up hope of getting a 3ds Max Indie subscription. In the comments to the thread, 3ds Max Facebook product manager Chip Weatherman posted the following:
"As far as I know, the rollout will span more countries over time. This is the next group of countries where we have been legally "approved". "
Maya Indie is said to be available wherever Autodesk has an eStore
For Maya users, TJ Galda, Senior Product Line Manager at Autodesk for Maya and the Entertainment Collection, tweeted that Maya Indie "will be available wherever we have an eStore from August 7th."
The list of Autodesk locations worldwide can be found here: It includes the countries listed above as well as Hong Kong and South Africa, as well as collection locations for Latin America, the Middle East and other European countries.
Pricing and system requirements
3ds Max Indie is available for Windows 7+. Licenses are only available to landlords in eligible countries that earn less than $ 100,000 / year. Subscriptions cost around $ 250 / year.
The exact number varies between countries where the indie program is available, especially considering taxes. In the UK, the price is currently £ 276 / year plus 20% VAT.
Maya Indie is available for Windows 7 and 10, RHEL / CentOS 7.3-7.7 Linux and macOS 10.13+.
Visit the 3ds Max Indie supply page
Visit the Maya Indie supply page
Tags: $ 250 / year, 3ds max, 3ds max indie, Asia, Australia, Austria, Autodesk, Belgium, Brazil, Canada, conditions, Czech Republic, Denmark, Europe, Finland, France, freelancer, Germany, Hong Kong, Hungary, Indie Artist, Indie Pricing, Italy, Latin America, Maya, Maya Indie, Mexico, Middle East, Netherlands, New Zealand, Norway, Offer, Pilot Program, Poland, Portugal, Price, Restrictions, Russia, South Africa, South America, Spain, Subscription, Sweden, Switzerland , System requirements, Turkey, Great Britain, USA, USA. North America worldwide