Originally published July 6, 2020. Scroll down for commercial release news.
Chaos Group has released V-Ray 5 for Maya, the next major version of the Maya edition of the renderer, as a free public beta. Updated: It has now been released commercially.
The update radically reworks the V-Ray frame buffer and introduces layer-based compositing, a new system for re-lighting scenes after rendering, and support for light path expressions.
Other new features include an improved sun and sky model, new material options for surface coatings and gloss, and support for out-of-core rendering in V-Ray GPUs.
Most of the 3ds Max edition features exclude the material library
The public beta was actually released last month, but we missed it in the social media activity surrounding V-Ray 5 for 3ds Max, the full release of which was released a few days later.
As you would expect, the new features are very similar to the 3ds Max Edition.
The Maya edition does not include the library of pre-built materials that accompanied V-Ray 5 for 3ds Max, nor the changes to the material preview in 3ds Max's native material editor.
Apart from that, most of the key functions are already present in the first version.
V-Ray 5 redesigns the V-Ray frame buffer and allows the lighting components for a scene to be remixed directly in the VFB instead of having to export files to an external compositing application.
Important changes: Integrated compositing and relighting in the VFB as well as a new material library and a new browser
The most important change in V-Ray 5 is the revision of the V-Ray Frame Buffer (VFB): the native display window for V-Ray renderings.
Although it was already possible to color-correct renderings in the buffer or apply simple post-effects, V-Ray 5 offers the VFB its own integrated layer-based compositing system.
The new functionality should make it easy to complete renderings directly in V-Ray instead of having to export images to an external application such as Photoshop.
The release also introduces a new system for re-lighting images without re-rendering, similar to the LightMix system in Corona Renderer, V-Ray's sister application.
Light Mix automatically generates light selections for each lighting component in a scene so that color and intensity can be adjusted after rendering, which extends initial render times.
In addition, V-Ray 5 offers support for Light Path Expressions (LPEs), so that any lighting contribution to a scene can be rendered as a separate render pass.
Similar functions are available in Arnold, Clarisse iFX, RenderMan and a number of other DCC software.
New layers and gloss layers in the standard V-Ray material
The version extends the V-Ray material system with a number of new functions, including new Coat and Sheen parameters in the standard V-Ray material.
Coat makes it possible to mimic the appearance of surface coatings such as paint directly in VRayMtl instead of having to create them via V-Ray's mixed material.
Not only is the new system easier to set up, it is also "much faster to render" than the current method.
Sheen is supposed to "produce fabric-like materials with just a few clicks" and imitate the effect of the scattering of surface light by microfibres in real fabrics.
Updates to the V-Ray GPU, new sun and sky model, sampling of blue noise in the DMC
V-Ray 5 also includes some changes to the V-Ray GPU, the software's GPU-enabled render engine.
Most importantly, it has "initial support" for off-core rendering, which makes it possible to render scenes larger than will fit in a GPU's graphics memory without sacrificing the speed that normally comes with it.
Other new features include support for secondary matte projections on the GPU and support for 2.5D shift: a performance-enhancing change originally introduced in Corona Renderer 5.
The update also adds the new sun and sky model, which is previewed with Corona Renderer 6 and promises more accurate results as the sun approaches the horizon.
In addition, V-Ray 5 for Maya supports rendering in the ACEScg color space and the sampling of blue noise in the DMC sampler to achieve even noise distribution in rendered images with fewer samples.
We wrote about the new features when the 3ds Max edition was released. To get a deeper look at the changes, check out our overview of the top 10 features in V-Ray 5 for 3ds Max.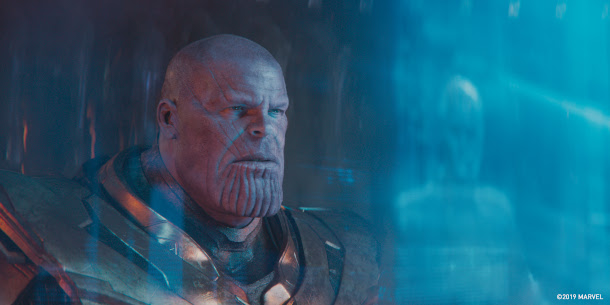 Chaos Group's V-Ray 5 promo image for Maya shows Digital Domain's work on Avengers: Endgame.
Updated August 7, 2020: V-Ray 5 for Maya is shipping now.
In addition to the changes described above, the new functions also include a VRayProxy node. It supports background loading, and users can select, hide, or assign materials to objects within proxies using a new hierarchy view.
Users can also set procedural rules for proxies to make it easier to modify multiple objects at once.
V-Ray 5 for Maya also includes new material property randomization features, which are covered in more detail in our 3ds Max edition story. and support for procedural dirt streaks in the VRayDirt material.
Users also get new presets for materials like metals, plastics and glass, as well as presets for popular hair colors like blonde, brown and black.
Pricing and system requirements
V-Ray 5 for Maya is available for Maya 2017+ and runs on Windows 7+, RHEL 6.5 / 7.2 WS and CentOS 6.5 / 7.2 Linux as well as Mac OS X 10.10.5+.
A perpetual workstation license and render node are priced at $ 1,180. The rent is $ 80 / month or $ 470 / year.
Review the new features in V-Ray 5 for Maya on the product website
For a full list of what's new in V-Ray 5 for Maya, see the online Release Notes
Check out our overview of the top 10 CG artist features in V-Ray 5 for 3ds Max
Tags: 3ds max, ACEScg, blue noise, chaos group, coatings, color correction, compositing, Corona Renderer, Corona Renderer 6, dirt streaks, DMC sampler, download, free, GPU rendering, instantiation, Light Path Expressions, LightMix, LPE, Material Presets, Material Randomization, Maya, New Features, Open Beta, Out-of-Core Rendering, Plugin, Price, Proxies, Public Beta, Release Date, Relighting, Renderer, Rendering, Shine, Sky Model, Sun and Sky, System Requirements, Texture Randomization, V-Ray, V-Ray 5, V-Ray 5 for Maya, V-Ray Dirt, V-Ray frame buffer, V-Ray GPU, V-Ray material, VFB, VRayDirt, VRayMtl, VRayMultiSubTex, VRayProxy , VRayUVWRandomizer, vrscene