Chaos Group releases V-Ray 5 for SketchUp
Monday, November 9, 2020 | Written by Jim Thacker
Chaos Group has released V-Ray 5 for SketchUp, the latest version of the production renderer for Trimble's architectural sketch software.
The update makes the most important functions from other editions of V-Ray 5 available in SketchUp, including assembling in the V-Ray image buffer, the Light Mix system and new material options.
Unique features include V-Ray Vision, a new real-time rasterization mode for exploring SketchUp scenes, and Light Gen, an automated system for rendering lighting variations of a scene.
Main features of V-Ray 5: Compositing in VFB, Light Mix and new material options
SketchUp is the latest host application to be updated to the new V-Ray 5 architecture after the release of V-Ray 5 for 3ds Max and V-Ray 5 for Maya earlier this year.
Key changes include built-in layer-based compositing in the V-Ray Frame Buffer (VFB) and Light Mix, a corona renderer-style system that allows the light intensity in images to be adjusted without having to be re-rendered.
The update also introduces a new sun and sky model that provides physically more accurate results than its predecessor, especially when the sun is close to the horizon.
SketchUp users also get the new material features in V-Ray 5, including new coating and gloss materials in the standard V-Ray material, new options for randomizing textures, and updates to V-Ray Dirt.
The version also comes with the updated material library, which contains over 500 presets representing common architectural materials like metals, glass and wood.
We covered the main features in the release of V-Ray 5 for 3ds Max. Please see this story for more information.
New V-Ray Vision scene viewer and real-time rendering mode
What's more interesting is that SketchUp users get some unique features too: notably V-Ray Vision, a new real-time rendering mode in the works.
It is primarily intended for scene exploration and provides a quick way to locate camera positions from which to start final quality renderings using V-Ray's standard rendering engines.
However, according to Chaos Group, it can also be used to render panoramas or animations on its own if you don't mind the drop in image quality: it uses rasterization, not ray tracing.
V-Ray Vision is still in the early stages of development: in the first version it only runs on Windows and there are "many unsupported V-Ray functions and effects". Please see the release notes for more details.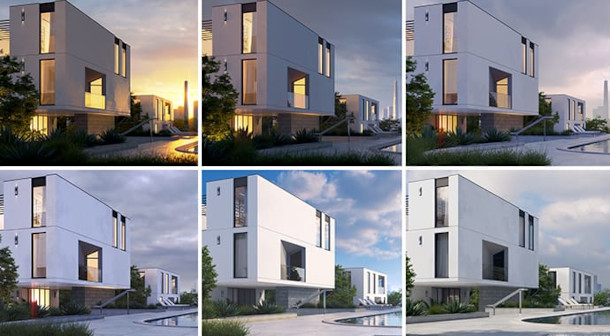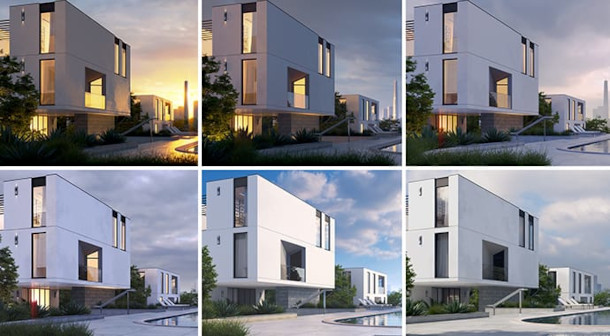 Light Gen automatically generates and renders lighting variations for a scene
Another new feature in V-Ray 5 for SketchUp is Light Gen: a new system for testing lighting variants.
It automatically illuminates the lighting characteristics in a scene and then renders thumbnails of each variant so that a large number of possible looks can be examined very quickly.
It can be used for both indoor scenes, either with image-based lighting or with a dome light. or for outdoor scenes with the V-Ray Sun & Sky system.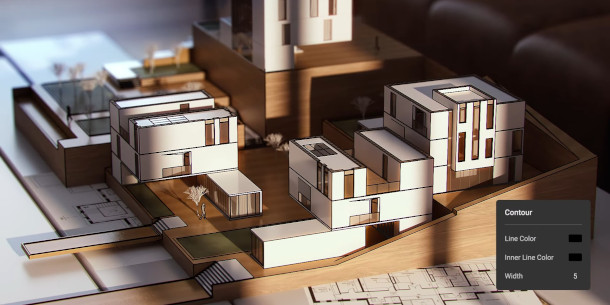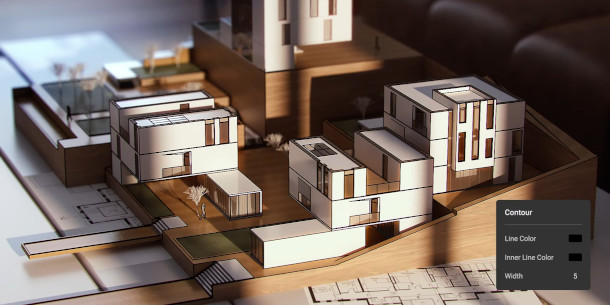 New global outline control for outline effects
Users also get a new global stroke control that they can use to apply a toon-shaded outline effect to a scene.
It is based on a new Toon material that "fixes some of the problems" of its predecessor in V-Ray Next and can be applied to existing shading configurations without the need to reassign materials.
Pricing and system requirements
V-Ray 5 for SketchUp is available for SketchUp 2016+ on Windows 7+ and Mac OS X 10.9+. A perpetual workstation license and render node are priced at $ 790.
Read an overview of the new features in V-Ray 5 for SketchUp on the Chaos Group website
For a complete list of new features in V-Ray 5 for SketchUp, see the online release notes
Tags: Architecture Visualization, Chaos Group, Layer, Compositing, Global Contour Control. Toon material, Light Gen, Light Mix, lighting variant, material library, new functions, outline rendering, price, rasterization, ray tracing, real time rendering, relighting, rendering, scene exploration, gloss layer, SketchUp, sun and sky system, system requirements, toon shading , Trimble, V-Ray, V-Ray 5, V-Ray 5 for SketchUp, V-Ray Dirt, V-Ray for SketchUp, V-Ray Frame Buffer, V-Ray Material, V-Ray Vision, VFB