Foundry has released Nuke Indie, a new version of the compositing software for $ 499 a year aimed at freelancers and freelance artists.
The new edition is based on Nuke Studio and includes editing and review functions. and exports with resolutions up to 4K; However, saves in its own file format and does not offer full Python or plugin support.
Nuke Indie was announced during the company's Foundry Live events during the normal Siggraph 2020 week alongside Nuke 12.2, NukeX 12.2 and Nuke Studio 12.2.
"Slightly restricted" but lacks many of Nuke Non-Commercial's limitations
Nuke Indie closes a gap in Foundry's product range between free Nuke Non-Commercial for Nuke learners and the full editions of the software, which start at just under $ 5,000.
In contrast to Nuke Non-Commercial, Foundry describes Nuke Indie as "slightly functionally restricted".
It contains functions that are not available in the non-commercial edition, such as the Chromat-Keyer Primatte and Ultimatte, the WriteGeo node, the option to export LUTs and EDLs and the support of external video monitors.
The remaining major limitation is the lack of support for the H.264 video codec and the AAC audio codec, although Foundry tells us that this is primarily a licensing issue.
Nuke Indie's maximum export resolution is also higher than that of Nuke Non-Commercial: 4K instead of Full HD, although you can only render on a single computer, not across a render farm.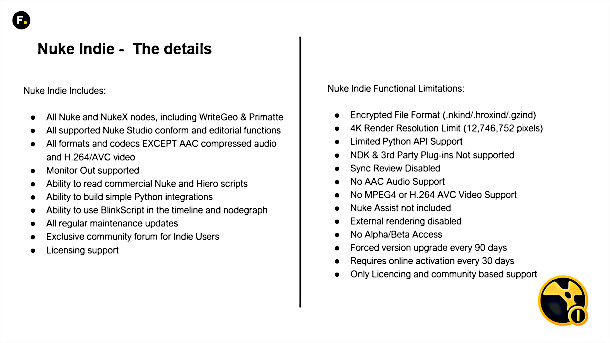 Developed for solo use, not for pipelines
Nuke Indie is designed to not work in pipelines – you don't want to use it as a cheap additional license – so it reads files from Nuke's commercial editions, but exports them in its own encrypted file formats.
As with Nuke Non-Commercial, Python scripts lack support for "small levels of automation", although BlinkScript is supported. and lack of support for the third-party C ++ SDK or C ++ and OFX plugins.
The foundry informed us that it would consider whitelisting key plugins like Mocha Pro in the future and was looking forward to user feedback on the subject.
Definitely – and reasonably priced – for serious commercial work
A key difference from Nuke Non-Commercial is that Nuke Indie can be used for commercial purposes, at least if you earn less than $ 100 a year: the same limit as for the indie editions of 3ds Max, Maya, and Houdini .
Like this one, Nuke Indie is only available for rent, although it's significantly more expensive: at $ 499 a year, it's about twice the price of 3ds Max or Maya Indie.
It's also almost twice as expensive as a perpetual license of the other node-based compositor on the market: Blackmagic Designs $ 299 Fusion Studio.
The foundry told us that Nuke Indie was "very affordable for the professional user" and that the price was set to match an average Nuke freelance compositor of two days.
In addition to freelancers, the company told us that Nuke Indie should appeal to solo artists working on commercials, corporate videos, episodic content for TikTok and Instagram, and even personal projects.
Pricing and system requirements
Nuke Indie is available for 64-bit Windows 10, CentOS 7.4+ Linux and MacOS 10.14+. The software can only be rented. Subscriptions cost $ 499 a year.
Use is limited to artists with gross annual sales of less than $ 100 / year and is limited to one license per user or organization. It cannot be used in pipelines with other commercial Nuke licenses.
In addition, users must not have had any active maintenance or support for Nuke, NukeX, Nuke Studio, or Foundry & # 39; s Production Collective in the past 36 months.
For more information on Nuke Indie, visit the Foundry website
(Includes a feature comparison chart with Nuke Studio and Nuke Non-Commercial)
Read the Foundry Nuke Indie online FAQs
Tags: 3ds Max Indie, 4K, broadcast monitor, C #, commercial use, comparison table, compositing, conformity, editorial, encrypted file format, export, FAQs, Foundry Live, freelancer, Fusion Studio, Houdini Indie, license terms, restrictions, Maya Indie , node-based, Nuke, Nuke 12.2, Nuke Indie, Nuke Non-Commercial, Nuke Studio 12.2, NukeX 12.2, OFX, plugin, price, Primatte, Python, resolution, resolution limit, restrictions, scripting, SDK, shot review, Siggraph 2020, solo artist , System requirements, timeline, Ultimatte, WriteGeo