FlexClip is incredibly smart software that I recently discovered. Creating online videos just got a lot easier in one fell swoop. In this blog I will share my experience and show you how easy it is to make an attractive and professional video in a short period of time. You can use it for YouTube intro maker, online slideshows, entertainment videos, and much more.
What is FlexClip?
FlexClip is a very simple yet very powerful online filmmaker that allows you to create cool videos for your business or personal use in minutes. It is a web-based platform so no download is required. An overview of some cool features:
Here you will find extensive animated elements, dynamic text, overlays, widgets, logos and much more.
The software has millions of royalty-free media resources.
The video editing tool allows you to crop videos and music, adjust pictures, change the aspect ratio, speak your own text, and watermark the video.
You will find a built-in screen and a webcam recorder.
FlexClip, the online video editor app, was developed by PearlMountain Limited. It has been dedicated to the research and development of graphics and multimedia software since 2006. They created FlexClip because they believe video is the best way to get your message across. But high quality videos or photo-to-video making online are often not easy and require a lot of time, talent, and money to be invested in them. With this free online software, they want to speed up this process and make it accessible so that anyone can create beautiful professional marketing and family videos.
And we find that very interesting, don't we?
Types of videos:
FlexClip gives you several ideas to get started with. In addition, they show a number of templates for each topic that you can get inspiration and different ideas from. This is how you can create videos about business, lifestyle, birthdays, family, lifestyle, vlog, fun, and more in no time. It will greatly help you market better on social media platforms. It will surely help you increase your sales and generate more visitors to your website / blog.
Use this free video editor online to give wings to your creativity. As mentioned earlier, most of the video elements are automated. You have to pay attention to the correct alignment of text and motifs, different widgets and the corresponding logo, choose from different color schemes / presets and you're done. To get an added benefit, FlexClip also supports many stock footages and royalty-free videos. They are much more immersive to your posts than simple text updates.
How do I use this online video maker tool?
After signing in, you can choose from several different video templates or start one over from the beginning. I suggest that you do a little research first and look at the examples that were created for you. You always have the Top Review option so you can get an idea of ​​the possibilities.
After choosing your template, you will be taken to the easy-to-use video editor. And this is where all the magic comes from.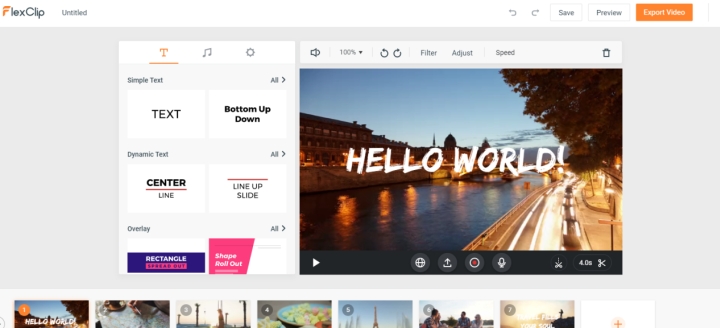 Below you can see an overview of all individual templates. If you are in the picture of your choice then you can customize it. If you want to add an additional template to your video, duplicate one of your existing templates and customize it as needed.
Cost for FlexClip – an online video editor:
My rating of FlexClip:
Now I am positively surprised. At first I thought I don't have time to familiarize myself with new software, no time because my to-do list is growing day by day. Anyway, full of positive cheer and we will do this job here – mentality I got immersed in this program and guess what? Yes, the folks at FlexClip are very honest about their website. You have successfully completed your mission!
FlexClip is very simple and I mean very easy to use. Even without a manual, you can make the best videos here in no time. And I have to say the inspiring examples helped me. This allows for an extremely easy learning curve. Anyone can start with that.
In addition, it is super convenient that you can change them Aspect ratio of your videos. This way you create a video for each of your channels with a single click that you arranged. This software makes your online life and time easier, but not your wallet.