Originally published July 15, 2020. Scroll down for final pricing for the P620 and Threadripper Pro CPUs.
Lenovo has announced the ThinkStation P620, the "world's first AMD Ryzen Threadripper Pro workstation".
The system that sits between the P720 and P920 at the higher end of the ThinkStation P-Series, Lenovo's professional workstation line, is initially the only way to purchase AMD's new Threadripper Pro CPUs.
The four new CPUs – Threadripper Pro 3995WX, 3975WX, 3955WX and 3945WX – offer the high number of cores of their consumer counterparts and are being marketed against two Intel Xeon systems.
Lenovo is also introducing the ThinkStation P620 as the "first PCIe Gen 4 workstation" aimed at graphics and engineering professionals, expected to ship in September 2020 with a base MSRP of $ 4,599.
How do the new Threadripper Pro CPUs differ from existing Threadripper processors?
The main selling point of the ThinkStation P620 is that it will initially be the only way to get hold of AMD's Threadripper Pro CPUs, which were also announced yesterday.
The new CPUs offer companies interested in building very powerful workstations an alternative to server CPUs, such as the EPYC product line from AMD.
In addition to supporting PCIe 4.0 – more on that later – they provide network monitoring and security features not available in existing Threadripper chips, including standard storage encryption.
You can see their key specifications in the table above: To further analyze the processors and their position in the market, AnandTech has a good overview.
Initially only available via the ThinkStation P620
In contrast to their "consumer" colleagues, the 3rd generation Threadripper CPUs from AMD, the Threadripper Pros are not sold directly, but are only available through system manufacturers such as Lenovo.
While Lenovo has a limited exclusivity period, AMD says it is unlikely that future workstations from competing manufacturers will offer significant new features.
At the Lenovo press conference, Andy Parma, head of the AMD segment, stated that "there is no need to wait for future product offerings" for anyone looking to use the Threadripper Pro CPUs in production.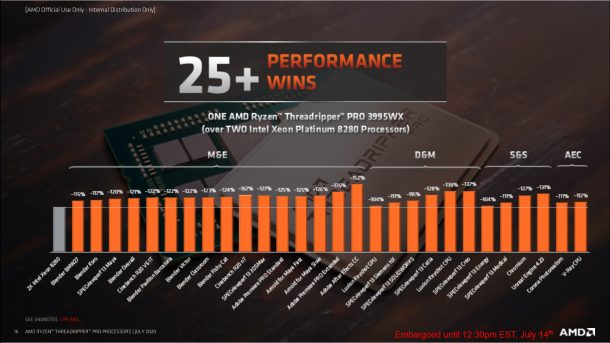 AMD's benchmark results show the performance of the new Threadripper Pro 3995WX compared to two Intel Xeon Platinum 8280 CPUs in DCC apps such as Blender, Maya and UE4. Click the image to view it in full size.
How do the Threadripper Pro CPUs work with the DCC software?
Like standard thread rippers, the Threadripper Pro CPUs combine high core numbers with high boost clock rates and increase performance for both high-threading tasks such as rendering and DCC apps with light threading.
Although AMD hasn't publicly announced pricing, making price / performance comparisons impossible, the company claims the chips are cheaper than two Intel Xeon CPUs with the same total core count.
AMD's own benchmark tests (above) show that the 64-core Threadripper Pro 3995WX outperforms two 28-core Intel Xeon Platinum 8280 CPUs for $ 10,000 in a range of 3D applications.
In addition to Blender and Maya, this also includes the CPU engines of renderers such as Arnold, Corona Renderer, KeyShot and V-Ray as well as other important DCC tools such as After Effects and Premiere Pro.
In our review of the Threadripper 3990X, the consumer equivalent of the Threadripper Pro 3995WX, which also has 64 cores and similar clock speeds, you can get an idea of ​​how this translates to other apps.
Other ThinkStation P620 specifications: PCIe 4.0 support and up to two Nvidia Quadro RTX 8000 GPUs
Another selling point for the ThinkStation P620 is its support for PCIe Gen 4. The system has six PCIe 4.0 slots: four full-length x16 slots and four x8 slots.
PCIe 4.0 offers higher data throughput between the motherboard and connected devices such as GPUs and SSDs than the PCIe 3.0 slots that are currently standard in professional workstations.
The other specifications are more conventional for a high-end system: up to 1 TB DDR4 RAM at 3,200 MHz; up to 20 TB of storage, distributed across up to six drives; and up to two Nvidia Quadro RTX 8000 GPUs.
The P620 uses the same air-cooled 33 liter housing as the ThinkStation P520 and has a 10 Gigabit Ethernet port, 10 USB ports (2 x USB 3.2 Type C, 6 x USB 3.2 Type A, 2 x USB 2.0 Type A) and standard audio connections.
Pricing and system requirements
As you'd expect from a system primarily geared towards larger studios, you need deep pockets to buy one: even the base configuration with an AMD Threadripper Pro 3945WX CPU, 16GB of RAM, a 256GB M.2 SSD and a single Nvidia Quadro P620 GPU has an MSRP of $ 4,599.
The Threadripper Pro 3995WX, 3975WX, 3955WX and 3945WX CPUs from AMD are only available through OEMs: initially only through Lenovo. AMD did not publicly announce the prices for the CPUs.
Updated October 15, 2020:: The ThinkStation P620 is now shipping. The cheapest configuration available – for a "Build Your Own" system – has a standard online price of $ 3,679.
Upgrading from the 12-core Threadripper Pro 3945WX to the 64-core Threadripper Pro 3995WX increases the price by over $ 10,000. The upgrade prices for the other Threadripper Pro CPUs can be found here.
For more information on the ThinkStation P620, visit the Lenovo website
For more information on the new Threadripper Pro CPUs, visit the AMD website
Tags: 10 Gigabit Ethernet, After Effects, AMD, Arnold, Benchmark, Blender, Chassis, CineBench, clock rate, connectivity, number of cores, Corona Renderer, CPU, DCC, DDR4, Epyc, Expansivity, GPU, graphics workstation, Intel, KeyShot, Lenovo, Maya, P-Series, PCIe 4.0, PCIe Gen 4, Premiere Pro, Price, Processor, Professional Workstation, RAM, Release Date, Server CPU, Specs, SSD, Memory, ThinkStation, ThinkStation P520, ThinkStation P620, ThinkStation P720, ThinkStation P820, Threadripper Pro, Threadripper Pro 2975WX, Threadripper Pro 3945WX, Threadripper Pro 3955WX, Threadripper Pro 3995WX, USB, USB-A, USB-C, V-Ray, Workstation, Workstation-CPU, Xeon, Xeon Platinum 8280