Pixologic has released ZBrush 2021, a major update to its digital sculpting software.
The version includes a completely new dynamics toolset that is primarily intended for creating fabrics, but can perform a variety of tasks, from set dressing to collision simulations.
Supporting functions include a new dynamic thickness system that allows fabrics to become thick. MicroPoly, a new system for creating woven structures; and a library of clothing swatches in SpotLight.
Other changes include new functions in ZModeler to help retopologize high-resolution networks, some nice updates for NanoMesh, and support for the Alembic and Collada file formats.
The new features were shown yesterday in a livestream, the recording of which is embedded below.
As with all current updates for ZBrush, the version is available free of charge to all registered users of the software.
A completely new dynamics toolset for everything from material creation to collision simulation
By far the most important feature in ZBrush 2021 is the new Dynamics palette, which allows users to run physics simulations on objects in a ZBrush scene.
When Pixologic released its first sneak peek video of ZBrush 2021 last month, we – like most ZBrush users – were focused on the potential of sculpting fabrics.
That's certainly part of its appeal, but it can do a much wider range of tasks, from customizing a scene to adding collision damage to hard-surfaced models.
"Fabric is totally cool, but (Dynamics) does so many other things," commented game artist and ZBrush educator Michael Pavlovich during the live stream. "The first six demos I did had nothing to do with fabric."
Establish soft body dynamics through a series of simple control parameters
The Dynamics palette gives artists two basic options: Liquefying the selected SubTools – an effect similar to deflating a balloon – or applying gravity to them.
The latter pulls objects to the bottom of the screen. So by rotating the view you can choose any direction relative to a scene – with a force that is determined by the setting of gravity.
Any SubTool or combination of SubTools within a scene can be converted to collision geometry, which means that other objects deform upon contact around them.
The effect can be controlled by a simple set of parameters: simulation iterations, strength and strength, which determine the object's resistance to deformation.
It is also possible to inflate the geometry, which moves surfaces outward in their normal directions, or to deflate them, which does the opposite.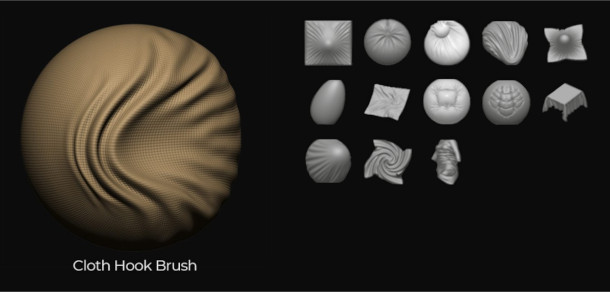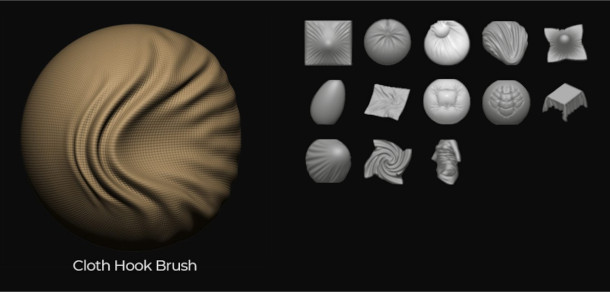 A set of over 10 new fabric brushes for refining fabric simulations
The most obvious use case for the Dynamics toolset is fabric simulation: the livestream contained demos ranging from creating a pillow and bedspread to creating clothes for a character.
Instead of just sculpting fabric by hand, the simulation allows users to walk 90% of the way there and then manually sculpt the results with a new set of fabric brushes.
When we saw it in the original Sneak Peek, we described its functionality as being similar to the new physically-enabled cloth brush that was introduced in Blender 2.83 earlier this year.
That's true up to a point, but ZBrush's toolset is much deeper with over 10 new brushes for fabric shaping.
They range from basic manipulation tools like ClothMove, ClothPull and ClothSlide to ClothDimple, ClothTwister and ClothHook, which are used to pull fabric objects into rolls and folds.
All new brushes have the same controls as standard sculpting brushes, so their effect can be adjusted with modifiers, by applying jitter or noise, or by changing the trail settings.
In addition, non-fabric brushes also take the simulation into account: for example, if you build up the surface of a fabric object with the standard brush, creases form around the bulge.
However, one of the most versatile tools for fabric manipulation is not a modeling brush, but a transposition tool.
Using TransposeCloth from scaling fabric along an axis to create compression folds to manually colliding an object with another to deform its surface – more about that later.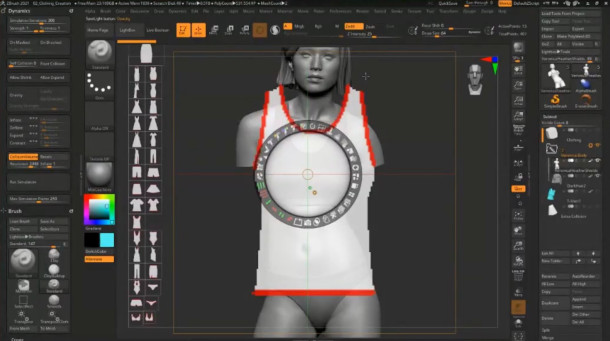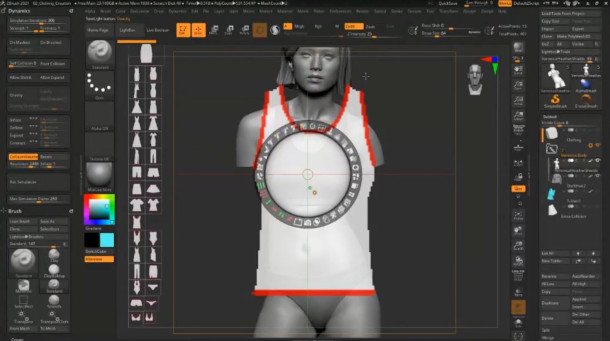 New alphas for clothes in SpotLight
Fabric simulation and shaping tools are also supported by a new set of alphas for garments in SpotLight, ZBrush's projection structuring system.
Each mimics the silhouette of a common piece of clothing: underwear, pants, dresses, swimsuits and so on.
When converted to geometry with Snapshot3D, they form the front and back of a 3D garment that can be automatically joined with a number of subdivisions specified by the user.
The resulting garment can then be adjusted to a character model using the contract control in the Dynamics palette and refined using the fabric shaping tools.
It's not a full pattern-based clothing design system as provided by specialty tools like Marvelous Designer, but it's surprisingly close.
It's probably all it takes to create believable clothing for a character sculpture.
Dent and crumple models with hard surfaces and inelastic collisions
In addition to clothing, the Dynamics toolset can also be used for inelastic collision effects.
A demo from the livestream showed the use of the TransposeCloth tool to drive a 3D truck into a tree, first denting the hood, then the roof, and then colliding with the baseplate to deflate the tires.
Another showed the same effect which was automatically restored by adjusting gravity to work horizontally in the scene and then letting the simulation run its course.
The generated deformations can be transferred to a separate mesh layer, which makes it possible to mix between the wrinkled and the original, non-wrinkled state.
It is also possible to record the animation and play it back in ZBrush or export it in MDD format to other DCC applications that support the format, e.g. B. Houdini or LightWave.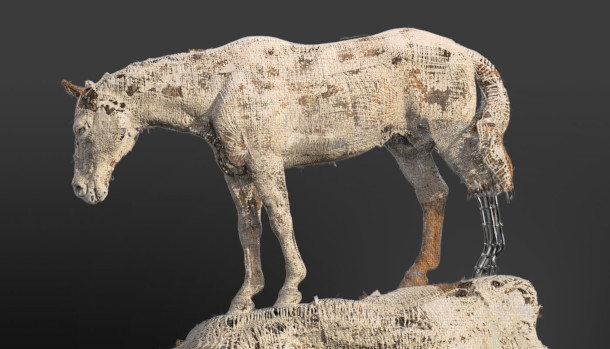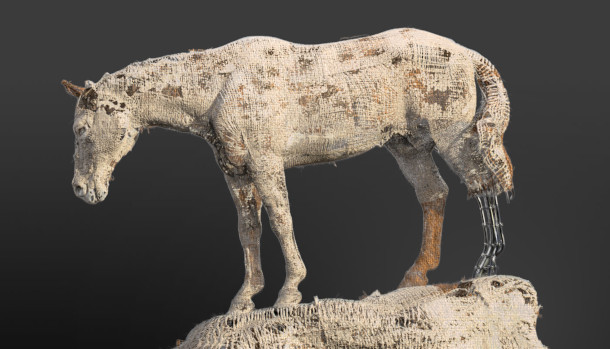 The new MicroPoly system reproduces the weave structures of real fabrics
Other new functions that are well suited for fabric simulation are MicroPoly, a new dynamic subdivision function that can be used to simulate the weave structures of real fabrics.
It replaces every face on a surface with tiled geometric units, enabling effects that range from fabric to chain mail.
In the livestream demos it was best suited for creating rough web structures. However, you can change the resolution or nest the effect to create threads in larger fibers.
MicroPoly nets can also be polypainted, which means that subtle color variations can be created on the surface of the fabric.
Dynamic Thickness converts one-sided nets into solid fabric objects
Another major change that supports fabric workflows is the new Dynamic Thickness system, which converts one-sided meshes into geometry with separate front and back sides.
All functions can be used together: A demo showed how MicroPoly was applied to a layer to create a checkered quilt that was allowed to drape over a 3D bed under the influence of gravity.
After weaning, the quilt was creased with the ClothHook brush at dynamic thickness and then inflated to selectively inflate the inner portions of the checks.
Pixologic describes the toolsets as "having a lot of potential for happy accidents".
Updates to NanoMesh improve the instantiation of workflows
However, ZBrush 2021 is not all about dynamism. Other changes include an update to the NanoMesh instantiation system that should allow it to work with much larger instantiated geometries.
Users can append single poly planes to the surface of a model to which NanoMesh geometry is applied.
A split screen display shows the source network alongside the entire model, with changes to the source being propagated in real time to the instances on its surface.
A demo from the live stream showed the new NanoMesh Edit Mesh function, with which shoulder pads, elbow pads and knee pads can be shaped for one character at the same time.
Changes to ZModeler help with the retpolization of high-resolution shapes
ZModeler, ZBrush's polygonal modeling toolset, has new features that can be used to retopologize high-resolution shapes.
Users can use the new "Extrude" action to create low-poly all-quad geometry over the surface of a sculpture to pull a new polygon out of the edge of an existing one and snap it onto the underlying model.
A new Edge> Insert> Equidistant option maintains the curvature of a low resolution mesh when new edges are inserted into it. A full list of the new ZModeler features can be found here.
Support for new 3D file formats, workflow changes, and performance improvements
Other changes in ZBrush 2021 include support for the iMage3D system introduced in ZBrushCoreMini, the new free entry-level version of the software.
Users can save a GIF or PNG image of a model that contains the information ZBrush needs to restore the original mesh. This makes it easier to share 3D models on social media.
Images created in ZBrushCoreMini can be opened in ZBrush itself, but not the other way around.
The update also enables the import of export files in Alembic or Collada format or in 3MF format, a new open source format for exporting 3D models for additive printing.
There are also a number of quality of life improvements: In addition to the improvements listed in the online documentation, a nice change in the livestream is the option to hold down the Alt key to "paint out" a polygon from a polygroup.
In addition, performance has been improved, especially when using the Move brush or DynaMesh.
Pixologic doesn't give any numbers on the speed boost, but you can see a performance comparison between ZBrush 2020 and ZBrush 2021 side by side at 1:50 a.m. in the original sneak peek video.
Pricing and system requirements
ZBrush 2021 is available for 64-bit Windows Vista + and Mac OS X 10.10+.
New perpetual licenses are $ 895 and subscriptions are $ 39.95 / month or $ 179.95 for six months. ZBrush 2021 is again a free update for registered users of any version of the software.
Read an overview of the new features in ZBrush 2021 on the Pixologic website
For a full list of what's new in ZBrush 2021, check out the online documentation
Tags: 3D clothing, 3D garment, 3MF, ABC, Alembic, animation, animation cache, Blender 2.83, chain mail, fabric, fabric brushes, fabric shaping, fabric simulation, ClothDimple, ClothHook, clothing panel, clothing part, ClothMove, ClothPull, ClothSlide, ClothTranspose , ClothTwister, Collada, Collision, DAE, Deformation, DynaMesh, Dynamic Thickness, Dynamics, Tissue Structure, Free Upgrade, GIF, Gravity, Houdini, iMage 3D, Instantiate, Liquify, Marvelous Designer, MDD, MicroPoly, NanoMesh, new features, Pixologic, PNG, Polygroup, PolyPaint, price, retopology, simulation, single polygon level, snapshot 3D, soft body, soft body dynamics, headlights, system requirements, web structure, ZBrush, ZBrush 2021, ZBrushCoreMini, ZModeler