SideFX gave a sneak peek into Houdini 18.5, the next update to its procedural 3D software.
The version includes features across the Houdini toolset, including new tools for simulating liquids and fabrics for VFX artists, new instance tools for motion graphics, and updates to game development plugins.
It also marks the debut of KineFX: an intriguing new procedural character rigging and motion editing system.
According to the final screen of the video, users will be able to "see the rest of October 15," though it's not clear if that means another teaser or if the update will actually ship then.
New topo transfer tool already backported to Houdini 18.0
SideFX typically releases a major update for Houdini every six to nine months. In a normal year, Houdini 18.5 would have already been delivered.
As a stopgap measure, the company has "backported" some of the features under development to the latest builds of Houdini 18.0: for the first time we can remember that this has happened.
Some of these features are redisplayed in the teaser video above, most notably Topo Transfer, a new system for organically deforming a source mesh to fit the dimensions of a destination mesh.
In demos, it is reminiscent of Wrap, R3DS 'popular stand-alone topology translation tool that allows users to translate a clean all-quad topology from a standard model to a 3D character scan.
Other functions that have already been backported are the new SessionSync function in the Houdini Engine for Unity plug-in, which links the Unity game engine live with a Houdini Engine session that is executed in Houdini itself.
For more details, see our original story about the backported features, which include a new Path Deform SOP, Dynamic Warp CHOP for timewarping animations, and a new viewport fogging system.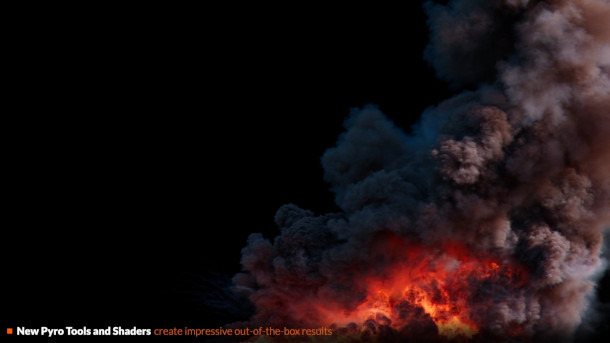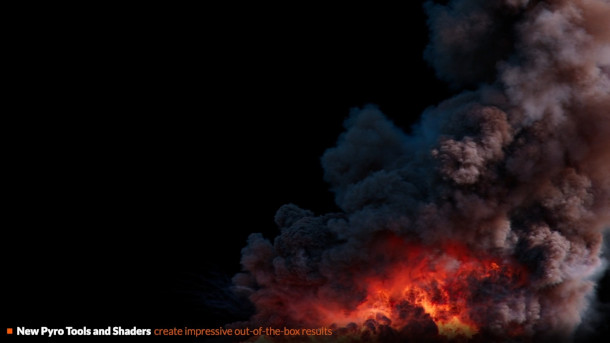 Simulation: Explosive new Pyro FX features
Of the completely new functions shown in the teaser, the most noticeable are the simulation tools.
Pyro FX, Houdini's toolset for smoke and fire simulation, receives a new Pyro Burst Source SOP, which is referred to as a "new method for creating and designing complex explosions".
In the demo this is illustrated by the cloud of smoke created by a huge chain of exploding fireworks.
There's also a new Pyro Trail SOP, described as an "artist-friendly (way of) creating complex blast paths," which supports collisions between the paths and the surrounding geometry.
The version also adds "Interactive Pyro" in the form of a new GPU-accelerated "Minimal Solver" that allows TDs to prototype explosions faster and work on lower quality previews.
Houdini's fluid simulation tools seem to have a minor update, but the video shows an adaptive viscosity system designed to speed up the simulation of viscous FLIP fluids.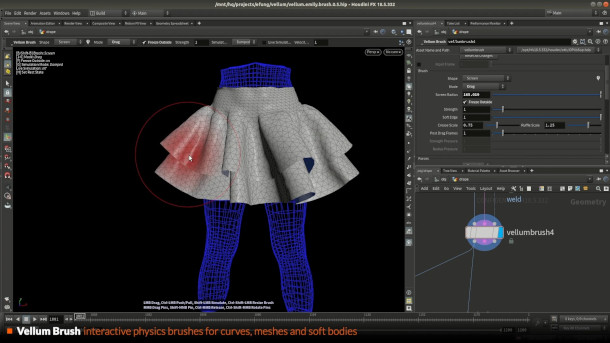 Simulation: New physics-based brushes for parchment fabric and soft bodies
Vellum, the GPU-accelerated multiphysics solver introduced in Houdini 17.0, is also receiving a major update.
New features include the Parchment Brush: a series of "interactive physics brushes for curves, meshes and soft bodies" shown in the video that allow users to customize fabric simulations by directly shaping the fabric mesh.
The update also introduces a number of parchment fabric types: downloadable parchment presets that mimic real-world fabric types such as threshold, leather, jeans, and wool.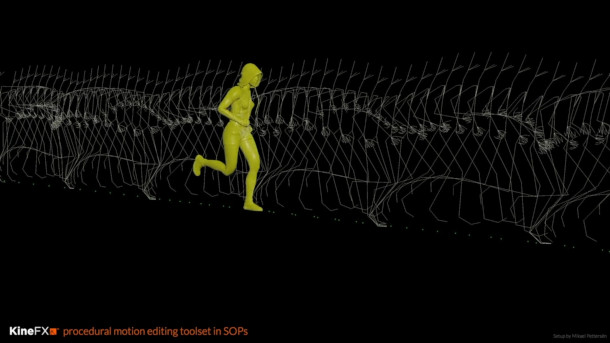 Rigging and animation: the new KineFX toolset
Another interesting new toolset shown in the teaser is KineFX.
It appears to be a procedural character animation system that SideFX describes as "the new foundation for procedural SOP rigging, retargeting and more" – the "more" includes motion manipulation.
Judging from the video, it's physics-conscious: it has a "physics-based full-body IK solver" and collision detection between characters and props, including vellum clothing simulations.
We'll be adding more information as soon as we get it, but posts on community forums suggest this is a toolset that many character TDs and animators are following closely.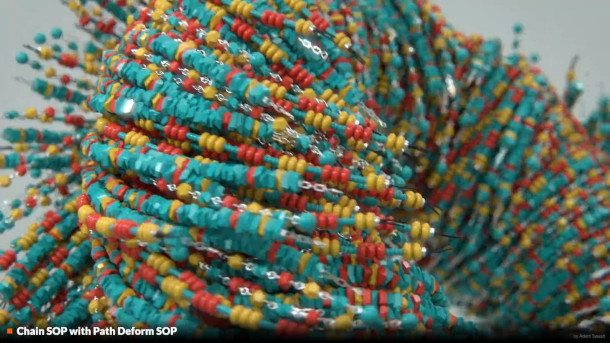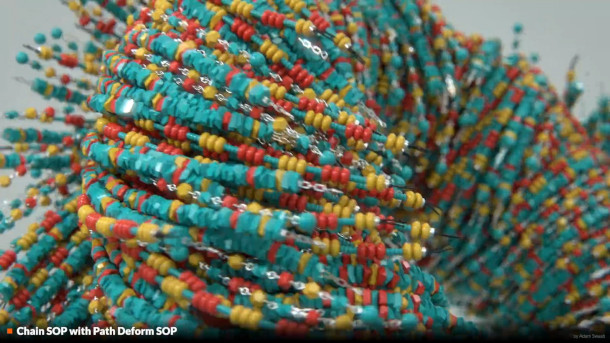 Motion graphics: New attribute from pieces and chain SOPs
Houdini 18.5 will also include two new SOPs that can be used to create motion graphics effects.
The Attribute from Pieces SOP is described as a "new way to create common attribute patterns" and is shown in the video, which creates the types of arrays of objects common in motion design.
The chain SOP is more self-describing and is used to "quickly geometry" a path.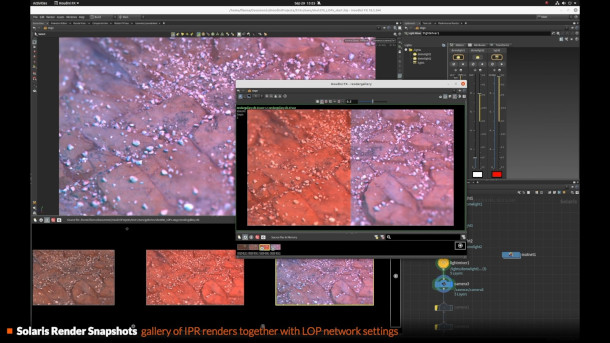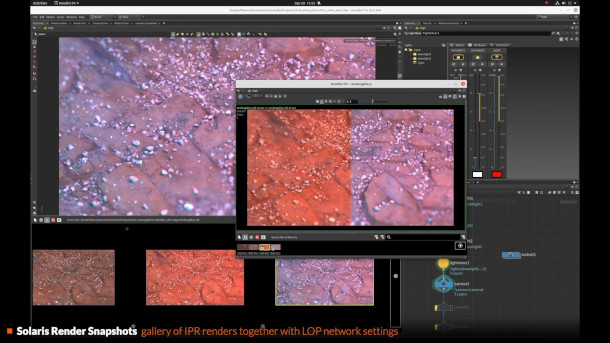 Look dev and layout: New render snapshot system in Solaris
New features in Solaris, the breakthrough toolset for look developers and shot layout introduced in Houdini 18.0, include Solaris render snapshots, which show a thumbnail of the IPR renders of a scene.
It seems like an intuitive way to compare look-dev variations of the scene created by editing the LOP node network. The demo shows an A / B wipe comparison of two IPR renderings.
Other new functions for scene layout include a self-describing SOP for scattering and alignment as well as Mask by Feature, with which attribute masks for terrain surfaces are generated based on geometry, shadow or ambient occlusion.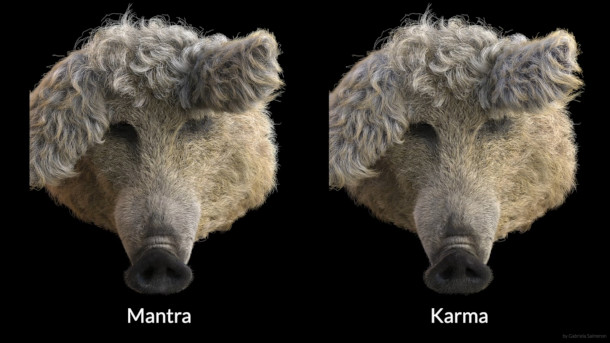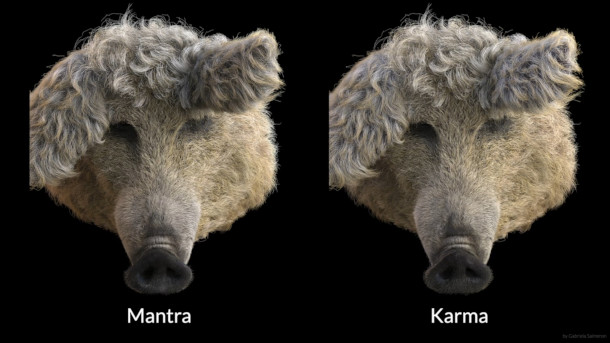 Rendering: New progressive rendering and de-noise options in Karma
Karma, the new USD native renderer introduced with Solaris and ultimately intended to replace Houdini's mantra renderer for final quality output, has also been updated.
New features include click-to-target progressive rendering, which lets users choose which part of the image to refine the fastest, and a new physical lens shader with interactive focal plane visualization.
SideFX has also implemented new anti-noise toolsets for interactive and final rendering: both Intel technology (presumably Open Image Denoise) and an unspecified GPU-based noise suppressor.
Support for random subsurface scattering has already been ported back to Houdini 18.0.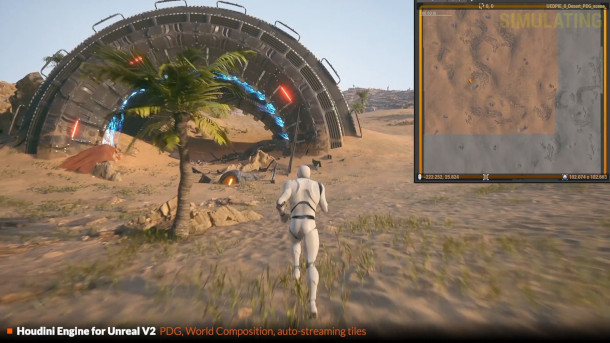 Plugins: Houdini Engine for Unreal V2 offers support for additional layout tools at UE4 level
Outside of the core software, the Houdini Engine plug-in for Unreal has been updated, which allows artists to interactively edit Houdini assets in Unreal Engine.
Version 2 includes support for UE4's World Composition system and BSP brushes, which are used to create layer layouts.
Pricing and system requirements
SideFX has not confirmed a release date for Houdini 18.5, although we expect it to be October 15, 2020. The current stable version, Houdini 18.0, is available for Windows 8+, MacOS 10.13+, and Linux distributions.
The full version, Houdini FX, costs $ 4,495 for a node-locked license. $ 6,995 for a floating license. Houdini Core, which lacks simulation tools, costs $ 1,995 for a node-locked license. $ 2,995 for a floating license.
There is also a free Houdini Apprentice Learning Edition and a cheaper Houdini Indie Edition that is only available for rent. Both save in their own file formats and have functional limitations. A product comparison table can be found here.
For more information on the Houdini 18.5 sneak peek, visit the SideFX blog
Tags: 3D modeling, adaptive viscosity, animation, animation editing, attribute from pieces, backported functions, BSP brushes, chain SOP, character animation, character rigging, fabric simulation, CPU denosing, dynamic warp, ambient fog, explosion, fire, FLIP , Liquid simulation, full-body IK, game art, game development, game engine, gaseous liquid, GPU noise reduction, GPU-accelerated, GPU-based, Houdini, Houdini 18.0, Houdini 18.5, Houdini Engine, Houdini Engine for Unity, Houdini Engine for Unreal, Houdini Engine for Unreal 2, IK-Solver, Intel, interactive pyro simulation, interactive rendering, interactive simulation, IPR, Karma, KineFX, LayOut, level design, lighting, liquid simulation, live link, look developer, look development , Mantra, mask according to function, movement design, movement processing, movement graphics, multiphysics solver, new functions, object scattering, open image denoise, PDG, physical lens shader, physics-based, plugin, Presetting, price, procedural animation, procedural rigging, progressive rendering, Pyro Burst, Pyro FX, Pyro Trail, real fabric types, real fabric types, release date, render noise, rendering, retargeting, retopology, scatter and alight, SessionSync, shot layout, SideFX , Simulation, simulation preview, smoke, Solaris, Solaris render snapshots, SOP, system requirements, terrain, topo transfer, UE4, Unity, Unreal Engine, parchment, parchment brush, parchment fabric types, VFX, fog in the viewing window, viscous liquid, visual Effects, world composition