I chose cute for my VFX.
Here is the latest version of YouTube:
Here is the latest GIF version: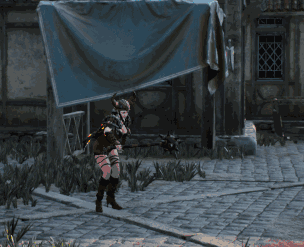 Here is my conceptual art that I created:
I wanted to adopt this sketch for several reasons:
To prove to myself that I have a passion for this craft and really want to make it a career.
Learn some new skills that get me out of my comfort zone. New ones I've encountered so far:
Create a character-specific workflow to create effects.
Modify existing animations to get better timing of the effects.
Change character materials to communicate the effects game.
Include kinematics in my work because it turns out I'm crazy about films.
Things I still have to do:
Add shock wave effect.
Polish assets with better mix and 3D geometry.
Add VO & SFX.
Record community feedback to repeat things like timing, camera angles, etc.
Challenges I have faced:
Rigid body simulations in Blender are not imported as a single animation. I tried to break a floor on the hammer.
Finding affordable characters matches animations that fit my vision. The selection for Hammer (Mallet) was over $ 50, so I chose a cheaper alternative with the Morgenstern. I like the idea of ​​supporting other artists by buying their fortune for my effects. Will do more in the future.
Working hours lost due to frequent accidents. The use of 4.25 was stopped because the engine crashed every time I opened Explorer. Cascade by default.