Eric Keller's video training for The Gnomon Workshop is one of the most popular on the site. Discover how his latest workshop, Introduction to Maya 2020, came about and what insights a killer tutorial has.
With testimonials from entertainment stars ranging from director JJ Abrams to special effects guru Rick Baker, The Gnomon Workshop's CG training videos are some of the most popular in the world. For the past five years, Eric Keller's videos have been some of the most popular on the site.
Eric is a versatile 3D artist whose credits range from films like 10 Cloverfield Lane to scientific visualization. He has recorded tutorials for The Gnomon Workshop on topics ranging from GPU rendering software to hyper-realistic insect design. However, for many aspiring 3D artists, he is best known for the Introduction to Maya series, his definitive guides to Autodesk's industry-standard modeling and animation software.
The latest in the series, Introducing Maya 2020, is the most ambitious yet. Over 15 hours of training introduce all of Maya's key functions. On the occasion of the tutorial's release, we met with Eric to find out exactly what went into creating The Gnomon Workshop's training, what constitutes a killer CG tutorial – and his advice for any artist looking to record their own tutorial .
Greenscreen: When did you start recording tutorials for The Gnomon Workshop?
Eric Keller: 2014. I taught myself at Gnomon, both in ZBrush and in Maya. They reached out to me and asked me to update the Introduction to Maya video series.
It was a real honor for me as I learned Maya a long time ago by watching Alex Alvarez & # 39; VHS tapes (founder and president of Gnomon). I would get these boxes of ribbons in the mail and start doing my little happy dance. My girlfriend – who is now my wife – would just roll her eyes, but I would devour The Gnomon Workshop videos and DVDs. I still have dozens of them.
CGC: How is The Gnomon Workshop different from other training companies?
EK: One of the things I like about working with The Gnomon Workshop is that when you watch the tutorials you really get the artist's voice. They guide us in what they want of us, but give us a free hand in how we do it.
I've made video series for other companies that have a producer in the room, and that producer isn't necessarily fluent in the software. It can be helpful because it reminds you when you show up or forget to mention something, but at the same time it's kind of a limitation because you're constantly talking about how to use the File menu instead of how to animate a character.
I appreciate The Gnomon Workshop's trust in me as an instructor and as an artist.
CGC: How do you approach teaching? Do you have a general philosophy?
EK: A friend of mine who is a biology teacher once said to me, "Assume maximum intelligence but minimum experience." When you teach, you assume that your students are as smart as you but have no experience of who you are. "I'm trying to do it.
There are many training videos out there that assume what they think users know. We've all been in a situation where we want to know how something works, so we watch a video and the person never gets around to explaining or they miss important steps and it makes them angry. Whenever I record my videos, I always think about what is going through the student's head as they watch it. I try to be as clear as possible about the basic things such as: B. Where are buttons in the Maya interface.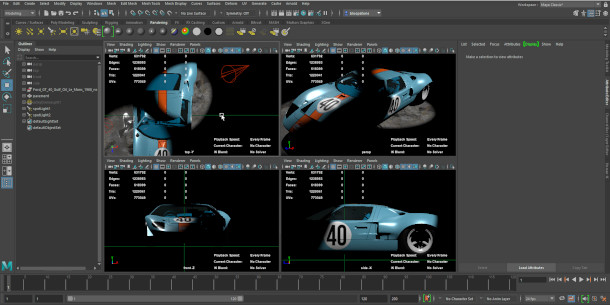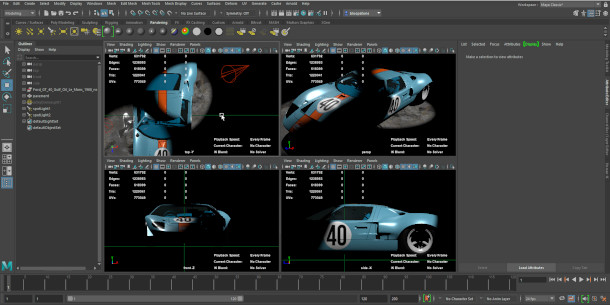 During a 15-hour video training course, Eric Keller's introduction to Maya 2020 leads the viewer from the basics such as the Maya interface to mastering core skills such as 3D modeling, animation and rendering.
CGC: What are the first steps in creating an introductory Maya tutorial?
EK: I'll start by making an outline for myself. I go back and check out my old videos to see what I want to cover (this time). Whenever I need to add new content, I'll find out where to adjust it.
Then I'll break what I want to talk about into a list of chapters. I try to keep all the individual videos under 20 minutes. It's hard to do, but once you cross that mark, people start to fade out. When I watch tutorials on my own, the first thing I do is look at how long they last. If I see a video on YouTube and it lasts for an hour and a half, I probably won't watch it, knowing that at least 30 minutes will be jibber-jabber.
CGC: Maya is a great application. How do you decide which toolsets to cover?
EK: Maya is huge. I know pretty well, but there's always someone out there, usually someone half my age, pointing out something that I didn't know could do.
Hence, I try to think of the parts of the software that are most helpful to people who are switching from another 3D app or trying to get into the industry. I focus on these key points: modeling, animating, lighting and rendering.
CGC: What do you do with toolsets that you can't go into in depth?
EK: At least you want to answer the question: what kind of thing is it and how is it useful to me? Is it useful at all?
There are other tutorials on The Gnomon Workshop that cover Maya features like XGen and the UV Toolkit. So I just show viewers the things they need to know to get started. Then they can watch these other videos for more details.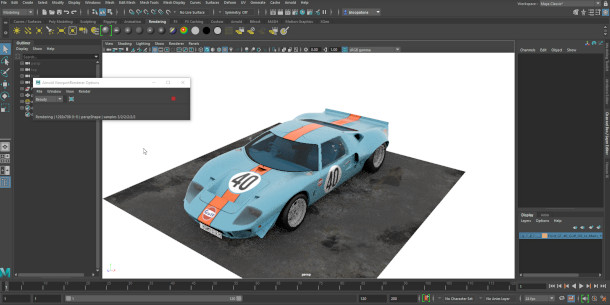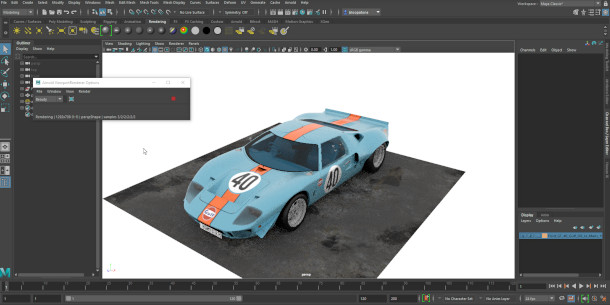 One of the starting points for the latest Introductory Maya tutorial: a model of a Ford GT40 racing car provided by the Hum3D online library, available for viewers to download along with the videos themselves.
CGC: How do you choose an overall concept for an introductory Maya tutorial?
EK: You need to have something on the screen that catches your attention, but also something that speaks to a lot of people. This gives me the freedom to work out CG clichés from my system in a playful way. I can indulge in things like robots and post-apocalyptic scenes as opposed to what I normally want to do, which is art for biology.
I also check out what's current in the Maya community. When I recorded Introduction to Maya in 2019 there were a lot of things using Quixel's Megascans assets. I'm a huge fan of megascans so I wanted to create a 3D scene with lots of flowers and lots of plants.
CGC: What is the concept for the new tutorial?
EK: This time we partnered with Hum3D. They have an online library with lots of cool 3D models that they sell, and they gave us two for viewers to download with the lessons: a Ford GT40 and a 1960s Czech military truck.
I wanted to create a CG scene with an implicit story behind it, so it's somewhat inspired by Blade Runner 2049: you see a huge warehouse with a couple of crashed vehicles – for some reason one happens to be a racing car and the other is a military truck – and that Animation revolves around a couple of drones examining the scene.
I am walking new users through the process of creating such a scene, teaching them the basics of Maya in the process.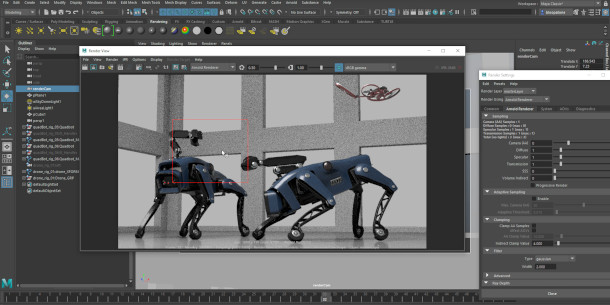 The stars of the tutorial – two robots inspired by the famous Boston Dynamics "spot" – were chosen to be something that most viewers will want to recreate, but are still so easy to model for beginners.
CGC: How do you balance a scene that looks impressive enough for the viewer to want to recreate and something that seems achievable to a novice?
EK: I think about that a lot. Take the character rigging as an example. I have to introduce the idea of ​​rigging to the student, but when I let him manipulate a human character there are so many things to worry about. How do you deal with compression when the limbs bend? How to paint skin weights How do you deal with mixed forms for facial animation? It's far too big a topic to cover in a short video.
But if I choose a robot, I can demonstrate the basics through an extremely simple rig. Students can come away and say, "Oh, I get that. This is what rigging is about" or "This is how I set up joints in Maya versus 3ds Max". I choose the topic based on how much information I can convey to the user in a 20-minute video or, in the worst case, in two 20-minute chapters.
CGC: Which of the new Maya 2020 features are you covering in the new tutorial?
EK: There are many improvements to the graphics editor in Maya 2020. In my opinion, it's always been one of the best things to do in Maya so we'll talk a lot about how to use it to get nice animation of the robots.
CGC: How much prep work do you need to do before you can start recording?
EK: I usually spend a third of my time preparing assets and two thirds recording the tutorial. For example, the robots in the scene are my take on the Boston Dynamics robot dog. I created the model in a basic form so that I can start the video with the words, "Here's what we want to achieve." The first model took a day, then it took a few times to record the video, to restore the model lasted days.
Since I tried to limit the modeling to a few chapters, after building the model I was able to show the basic ideas in advance, then go back to my finished version and say, "Do you see that leg? Here are the techniques I used to create it. "Then do it quickly.
The difficult thing is to show the students how they can do something (meaningful) in a short period of time so that they don't get lost.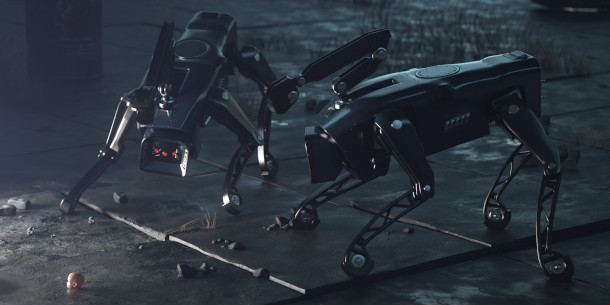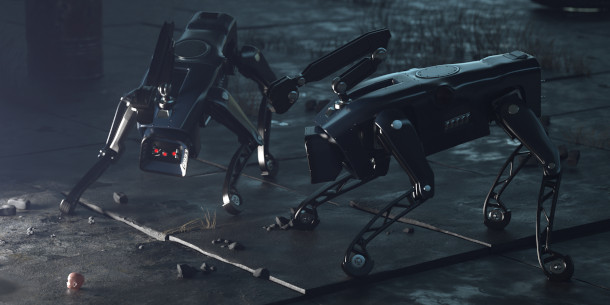 A completed still image from the Introduction to Maya 2020. Including planning, preparing, recording and editing assets, a long series of tutorials like this can include up to 200 hours of work for Eric.
CGC: How do you record and edit the videos?
EK: In Camtasia. The editing tools work really well, and it's easy to go back and add zoom-ins. Even though I record in HD resolution, I know that a lot of people will watch the videos in a small window in their web browser. So I'm zooming in so people can see what's written in the UI.
I also use a few notes so that non-native speakers of English will not have difficulty understanding what I am saying. And occasionally I use Camtasia's time-lapse tools to show (the work) faster and talk about it.
CGC: Do you rehearse each chapter before you record it, or do you do it on the fly?
EK: I do it spontaneously. I am not writing or reading a script. It's too heavy and it feels unnatural. I only have the most important points that I need to get across clearly in my head.
Sometimes, especially the first thing in the morning, it can take five or ten tries. But once I'm in the right headspace, I can take ten or fifteen minutes of footage and then go back and reduce it to five. If the video is good but the sound stinks, I'll go back and record it again. I do this until I've built the chapter up to about twenty minutes, then I go back and check it a few more times.
CGC: What do you have to work out? Mistakes or things that you think will confuse viewers?
EK: Both. Like everyone else, I have a lot of verbal tics. I say "and so on" a lot. So I cut that stuff out and the times when I screw it up or Maya misbehaves or my dog ​​starts moaning in the background.
But there are also times when I start recording a video and realize that what I'm talking about is not important to the classroom. You can get caught in a loop of trying to explain too much. Editing helps me format my thoughts.
CGC: How long does it take in total to record an introductory Maya tutorial?
EK: I started this in July and finished it at the end of October. I'm a freelance so I have to split my time between the tutorial and other jobs, but I'll be working on a tutorial six to eight hours a day, three or four days a week, maybe six weeks.
Eric's current demo role shows the breadth of his commercial work. He believes that recording tutorials is a valuable preparation for communicating your ideas with other artists while working on projects like this one.
CGC: Why should CG artists record their own tutorials?
EK: Because it helps you to express your ideas coherently. When you work in a studio, you often meet up with three or four other artists to find out how to create an environment or do a tricky effect recording. What are you doing in these meetings? You explain your ideas to your colleagues. It is not a bad idea to practice a little by creating a tutorial.
Don't just think of your video as a resume. Don't think, "I'm going to show what a great modeller I am, send it to Blizzard and they'll hire me." Trust me it won't happen. However, if you're trying to create a video explaining an aspect of Maya that others may not have thought about, or how to fix something that has always frustrated you in ZBrush, this is a great way to get your brain started to train.
CGC: What are your tips for taking good tutorials?
EK: Edit your videos. Even if you make a free video, cut it down to 20 minutes. And don't make a video where you just make mistakes. Go back and record again.
CGC: Doesn't it make sense to keep bugs on so you can show people how to fix them?
EK: I'm probably a tutorial snob, but I don't want a teacher to make a bunch of mistakes, spot them 10 minutes later, and then go back and fix them. Lots of people literally follow the video step by step. So, if you start doing something stupid, the hell you frustrate them even if you correct it later. You just learned how to do something wrong, then they have to sit down and try to fix it.
CGC: Do you have pet problems when you watch other people's tutorials?
EK: There are two main types of video. In one section you will explain how to use the software or how to do something. The other is where you do a demo and show how great you are as a CG artist. That's perfectly fine: these videos are entertaining to watch, and I watch many of them myself. The problem is when people mix up the two. I don't want you to brag while I'm trying to figure out why my software isn't working.
The other thing I don't want to hear on training videos is pontification. If it's a demo that's fine, but if it's a tutorial then I don't want to hear your philosophy on life. I just want to learn how the software works.
But while I have a mental list of the things I hate, I went back and watched my own videos and found that I made every single one of them myself. And then I have to get rid of these videos.
One of Eric's natural history animations for Entomology Animated, its new website. The website also features several series of free video tutorials on digitally sculpting insects and other mini-animals.
CGC: Outside of your work for The Gnomon Workshop, you record tutorials and videos on insect biology for your new Entomology Animated website. What drives you to do this?
EK: We have to go beyond the entertainment industry. Instead of just saying, "Here's a cool robot" or "Here's a hot girl with a gun," we need to use CG to communicate with everyone in society.
As CG artists, we have more power than we think. We have the power to change the conversation by what we create, what we share, and how we share it. If we continue to focus entirely on science fiction and fantasy, where does that leave us as we try to tackle the world's bigger problems? Not only do we have to create science fiction apocalypses, we also have to ward off real ones.
For more information on introducing Maya 2020, please visit the Gnomon Workshop website
Read more about Eric's work in his interview for The Gnomon Workshop blog
Full Disclosure: Greenscreen is owned by Gnomon.
Tags: 3D Modeling, Animation, Arnold, Autodesk, Character Rigging, Full How-To, Editing Video Tutorials, Eric Keller, Gnomon, Creating a Gnomon Workshop Tutorial, Creating a Video Tutorial, Introduction to Maya, Introduction to Maya 2020, Learn Maya, Lighting, Maya, Maya 2020, Scheduling Video Tutorials, Recording Video Tutorials, Rendering, The Gnomon Workshop, Tips, Tips on Making Better Video Tutorials, Tips on Creating CG Tutorials, Training, tutorial, video