The OTT industry saw a huge surge in the COVID-19 lockdown. People were literally consuming a large amount of content and there was a huge demand for more and more fresh content. The bigger players in this media & entertainment arena are Netflix, Amazon Prime, ZEE5, Disney + Hotstar, ALT Balaji, SonyLIV, Voot, Eros Now, TVF (Total Viral Fever) and Mubi. We have also seen the rise of many new OTT platforms such as MX Player, BigFlix, JioCinema, ShemarooMe, Airtel Xstream, Arre, Hungama Play and many more.
The benefit is for the end user or a consumer. Now he's out of the old cable war. Because of Very flexible and economical subscription models for OTT platformsNow the consumer only spends money on the content they are interested in. People also subscribe and unsubscribe according to the content. For example, a large chunk of people subscribe to Disney + Hotstar only during the IPL series.
Future of the OTT platforms in India:
Let's dive deep into the OTT industry.
Hanish Bhatia, Senior Analyst (Devices and Ecosystem), Counterpoint, cite the example of Radhika Apte, who also appeared in Ghoul, the Netflix original. He said that in the case of Ghoul, it was decided at the very last moment that it was a Netflix original and should be published on a digital platform. Netflix had made a significantly higher bid for the licensing rights of Ghoul. Therefore, it was later decided that it would not be published on any platform other than Netflix. It would be a Netflix Exclusive or an Original. According to Shrenik Gandhi, it is the growth and hugely popular competition in the wide and open space of OTT that leads to better, unique and creative content. At the beginning of 2015 there were 8 players in the OTT area and now that number has increased to 32. ALT Balaji has around 100 shows in production.
The OTT market is currently at $ 0.5 billion. The Boston Consulting Group has also estimated that the OTT industry in India will grow to $ 5 billion by 2023.
Factors contributing to this rapid growth include increasing wealth, the increasing diffusion of data in rural markets, and adoption by demographic segments, including women and the older generation. Although the OTT industry is growing tremendously every day, the TV and film industries are not exposed to any threats. A recent Elara Capital report on the media and entertainment industry found or determined that digital media is unlikely to have a negative impact on the exhibition segment, as utilization for multiplex chains across India is already quite low at 25 percent. Also, the screen density in India is much lower compared to the US and China. The exhibition segment will see healthy growth by then.
Bhatia also stated: "In India, OTT is definitely growing. But the audience base for watching the films that are shown in the mainstream is definitely quite massive and wide compared to OTT as they have limited viewers. "Bhatia added," Unless the content featured is reaching a larger and wider audience, I'm not sure that it can be considered broadcast for an award. However, the market is growing day by day so you will never know. "For Gandhi, the comparison between OTT and theaters is essentially the essential concept of private and public theaters. For example, if you are looking at the cinema industry, they are trying their best to give you theater experience for the past 1-2 years. When you watch a movie like Bahubali you are not watching it on your phone but on a big screen which gives you a better experience. Gandhi also believes that people prefer private theater in order not to be judged. There is always a fear among people of being judged. You can watch content online than in theaters as it is more engaging.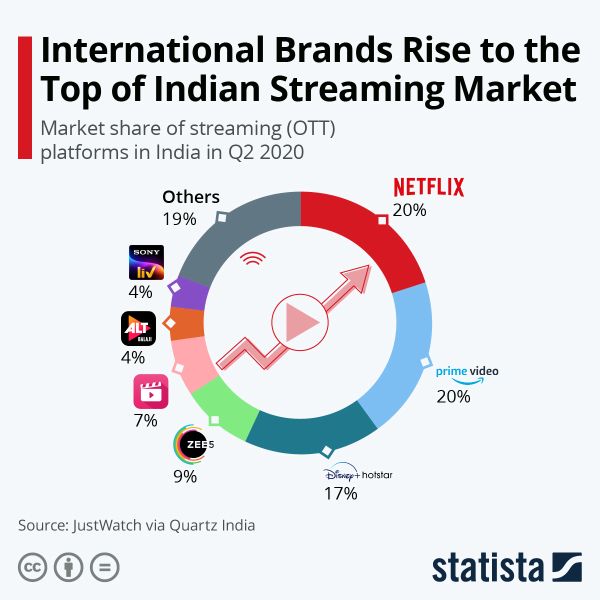 Can we expect OTT Awards?
Has anyone wondered if Radhika Apte will be nominated for Best Actresses at the 64th Filmfare Awards? but not for Andhadhun or Pad Man, but for Netflix originals Pleasure stories.
What if Pankaj Tripathi actually wins the National Award for his role in Mirzapur, streamed on Amazon Prime?
How surprising, right? All of this was possible and has shown open goals ever since Netflix Roma came out and it made big at the 91st Academy Awards. Alfonso Cuarón's film was awarded in the categories of Best Director, Best Cinematography and Best Foreign Languages. The film was like a golden spoon and a trailblazer for the film industry, although it was not received very well by many, especially exhibitors. The film was also criticized for entering Oscars. This happened not only internationally, but also here in India. This was done because filmmakers in India hope that something like this could happen here soon too.
Shrenik Gandhi, Chief Executive Officer and Co-Founder of White Rivers Media, said of money control, "This will create a new generation of cameramen, directors who were somewhat concerned about the power of digital media. You get a glimmer of hope. But it's obvious that every director in the industry has been creative in one way or another. The supply side amount of video content has exploded along with demand. "He's pretty confident that this year or through next year all mainstream awards categories will be over-the-top (OTT). Basically there will be categories for it. Even the main characters can be seen in the OTT section, so there's no reason why there isn't a category for them.
Gandhi believes that while the three main platforms of television, cinema, and OTT continue to co-exist, OTT are on their way to aggressively chasing new audiences. As online platforms like Netflix and Prime are willing to take risks and produce content in the market, there is therefore a demand for creative content. Thus, OTTs will have the opportunity to compete in the categories of awards or it will be a missed opportunity without a category of the same.